The Beautiful North Coast
In the North Coast everything is always perfect.  Take this year for instance: mild temperatures throughout the growing season, mostly average crops and plentiful water for irrigation. So far, one would say this year is set up for the harvest of the millennium.  Or, is it?
Well….there may be a few things to consider first….
1) Supply and Demand:
Presently, the North Coast markets are oversupplied for grapes and prices for all major varieties are soft.  Most wineries are not currently active and sellers are very concerned.  At this time, we have a limited number of clients looking to purchase Napa Valley Cabernet Sauvignon, Dry Creek and Alexander Valley Cabernet Sauvignon and Dry Creek Valley Zinfandel, respectively.
2) Weather:
I've worked in the North Coast since 1994 and this is the coolest summer I've experienced.  For the last several weeks, the marine layer hasn't burned off until around 11:30am and temperatures in the vineyards are barely reaching 85ºF (usual temperature is over 90ºF).  As a consequence of this unusal weather, most varieties are at least two weeks behind in ripening, leaving growers and wineries concerned.
3) Economy & Consumer Buying Habits:
The luxury end of the wine business has been dramatically affected by the collapse of the U.S. economy.  Consumers have (temporarily) traded down to below $10/bottle wines and those sales have increased. North Coast wineries and growers are hoping the economy rebounds and consumers trade back up; however, most accept the probability that it won't occur in 2010.
So….all may not be perfect in the North Coast but the area is still beautiful.  Let's hope (and pray) for an Indian Summer, an improved economy and increased consumer spending!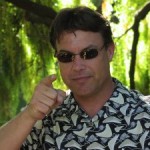 Brian Clements
Vice President/Partner