Turrentine Brokerage Adds Multi-Talented Mike Needham to Its Grape Brokerage Staff
Turrentine Brokerage is pleased to announce that Mike Needham has joined the company. Mike is replacing Audra Cooper as North Coast Grape Broker (who is now representing Turrentine Brokerage on the Central Coast). Mike will work with Brian Clements, Vice President, and Alicia Kump, Grape Brokerage Support, brokering grapes from Napa Valley, Sonoma County, Mendocino County, Lake County and Suisun Valley. "Mike's trifecta of knowledge in grape growing, grape selling and custom crushing is a perfect fit for Turrentine Brokerage," commented Brian Clements, Vice President.
Mike grew up in the San Joaquin Valley town of Linden. He earned a degree in viticulture from Fresno State and worked as a research assistant for both Cliff Ohmart and Keith Striegler. In 1997, Mike joined McCarty Company and managed three ranches, totaling approximately 2,000 acres. He transplanted himself and his family in the year 2000 to Anderson Valley, working for Madrigal Vineyards. Mike started with three vineyard sites adding up to 65 acres. Over the next few years, he farmed nine vineyards and 250 acres, and was selling the grapes to a long list of ultra-premium wineries.
Mike's employer decided to build a winery in the Napa Valley in 2007 — and they tapped Mike as General Manager. They built the winery just in time for harvest. Mike helped recruit six high-end custom crush clients to maximize facility efficiencies. He was soon responsible each vintage for roughly 100 lots of wine, destined for bottles that retail from $15.00 to $250.00 per bottle.
Hungry for opportunity to grow, he applied to Turrentine Brokerage, hoping to leverage his organizational and negotiation skills, his network of associates and friends, his knowledge of the business, as well as his knowledge ranging from soil types to rootstocks to grapes to wine to bottle. Give Mike a call (707-849-4337) with Napa Valley, Sonoma County, Mendocino County, Lake County or Suisun Valley grapes for sale.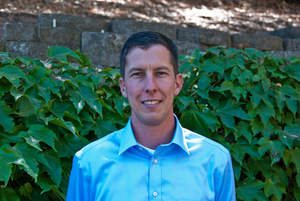 Mike Needham
North Coast Grape Broker