The wheel keeps turning, the pendulum keeps swinging and the harvests keep coming
Picture a pendulum, swinging one direction then the next. There is a moment in time, less then a millisecond, when that pendulum stops – appearing almost weightless – before the forces of gravity regain control, changing course and swinging in the opposite direction. When the plumb crosses dead center, it is moving at its greatest speed and has enough momentum to carry it through to the other side, continuing the same process again and again.
A pendulum can be used to illustrate how our industry is constantly shifting and changing, but also how it remains the same. The constant is change and cycles, and how we deal with a crop and bulk supply that is either short or long, but only for the briefest of moments – balanced and weightless.
Are we witnessing a change in direction regarding bulk supply? Maybe we are. All the numbers, statistics, projections, pundits, tea leaves and crystal balls (including my Crazy Eight) appear to be pointing to a change. The last time we even came close to talking about balance regarding supply was pre-harvest of 2005… and that chatter was quickly shut down by a record 3.760 million tons of wine grapes picked.  The way it looks today, we may not even make 3.2 million tons this year.  With 'maybe' 10 million gallons, give or take of California bulk wine on the market (which may sound like a lot…), and with wine bound to be 'un-listed' due to a shorter harvest, we may be able to start using the B-word again, if only for the briefest of moments.
I know that the above sounds completely counter-intuitive to those who have grapes and/or bulk wine for sale at this moment, but it will happen. It has before, and those who can see it coming and can plan around the cycles (changes and constants) will be far better off in the long run.
The Portuguese have an old saying "You plant grapes for your children and Oak (cork) trees for your great grand children…" That's a long term view, and that is also our view here at Turrentine Brokerage. We are in it for the long haul and have the team of brokers who know what service means, no matter where the current market is. So, give us a call!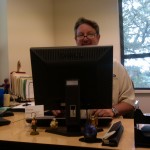 Michael Robichaud
Senior Broker/Partner